Fresh Dahlia Wedding Flowers
Fresh Cut Dahlias are available each season for a late summer, or early fall wedding. The cutting season begins in August through frost. Floral designers, and several brides have purchased our dahlias. Check out the Dahlia Divas
Pinterest Boards
, or our
Wedding Gallery
.
Dahlia Tuber Wishlist
The Dahlia Divas accept dahlia tuber wishlists anytime. We have everything planted for the 2016 season. If there is a tuber your interested in for next season please send a note through our contact form.
Greetings from the Dahlia Divas!
Thank you for visiting our website! We grow more than 120 variety of dahlias in a wide range of colors and shapes. Dahlias are easy to grow, with long-lasting flowers. Growing and sharing dahlias is our joy, and we hope the resources and variety you find here adds to your enjoyment as well.
The Dahlia Divas 2016 season is coming to a close. The dahlia tubers are in the ground and the flowers are still blooming. We will start to dig in November. We would like to thank all of the brides, and floral designers who came out to visit our field last season. It was a pleasure working with all of you, and we look forward to our 2017 growing season. Dahlia tubers and garden fresh cut flowers are available locally in the field. Fresh cut dahlias by the bunch are available from August through frost. If you're in the Eugene-Springfield or Pleasant Hill, Oregon area come visit our field.
We welcome inquiries from florists or any interested in purchasing dahlia tubers, or garden fresh cut dahlias by the bunch; reach us through our contact form. Dahlias are wonderful for any arrangement, and great for wedding bouquets, wedding centerpieces, wedding cakes, corsages, flower girl headpieces, and boutonnieres. You and your brides come pick the best!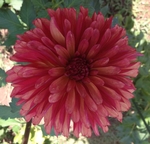 Alberta Sunset
The blend is striking in this dahlia, and has nice long stems. Great in any bouquet.
details...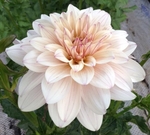 Jasmine Pearl
This is a beautiful blush lavender dahlia and unsure of the form. New to the garden in 2015. Compliments nicely...
details...